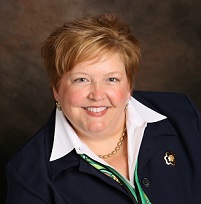 Therese Marie "Tracy" Anderson Wayson of Milwaukee, Wisconsin, passed away on Friday, September 30, 2016. A gentle soul with a kind heart and giving spirit, Tracy was surrounded by her family: husband, Kent; daughter, Kaitlin; son, Eamonn; mother, Jane Mullaney Anderson; and brothers Fr. Jordan (Steve); William; and Gerald Anderson Jr. Tracy was preceded in death by her beloved father, Gerald Anderson. Tracy will also be fondly remembered by father-in-law, Billy Wayson; mother-in-law, Gail Funke; aunts; uncles; cousins; and countless friends and colleagues. In recent years, Tracy has delighted in doting on her beloved nephews, Chet, Sam, Owen, David, and Felix. Friends may gather on Saturday, October 8, 2016 at ST. SEBASTIAN CATHOLIC CHURCH, 1747 N. 54th St. Milwaukee, from 9:00 AM until the time of Mass of Christian Burial at 11:00 AM. In lieu of flowers, Tracy's family requests memorials to the Tracy Anderson Wayson Scholarship Endowment Fund at Divine Savior Holy Angels High School.
Notice:
http://www.legacy.com/obituaries/jsonli ... fhid=19710
Obituary:
http://www.jsonline.com/story/news/obit ... /91436772/
Business Journal obituary:
http://www.bizjournals.com/milwaukee/ne ... son-s.html
Condolences below are from the messages on the Journal death notice web site.